Jayhawk League Football HOME Other Area FB Leagues Updated: December 19, 2015

Jayhawk Football League: 1930-1961
This league began operation with the 1930 football season. Charter members were ESKRIDGE, HIGHLAND PARK, ST. MARY'S ACADEMY, SEAMAN and WAMEGO. SEAMAN and HIGHLAND PARK had previously belonged to the SCL (Shawnee County League). ST MARY'S Jesuit school closed after the 1930-31 school year. TOPEKA CATHOLIC HIGH SCHOOL (TCHS) was approved for membership in 1932 - they would compete later as CAPITAL CATHOLIC and finally as HAYDEN. ALMA entered the league in 1933 and OSAGE CITY followed in 1936.
WW II travel restrictions were some of the reasons ALMA and ESKRIDGE dropped out of the league in 1942. COUNCIL GROVE was recruited in 1944 but left after the 1945 season. MID-EAST League member WASHBURN RURAL was approved for play in 1947. HIGHLAND PARK outgrew the league and left the group after the 1950 season and eventually joined the NEKL. HOLTON left the BIG 7 to join the league in 1952. HASKELL was recruited in the same year - but did not become eligible for football play until 1953.
The JAYHAWK had always been in general a CLASS A League and, as Hayden changed classification to AA , it was decided that HAYDEN should try to join a larger school group. They became an Independent in 1955. There were no more changes in the membership until the league was disbanded after the 1961-62 school year.
Year Team League ALL Coach
| | | | | | |
| --- | --- | --- | --- | --- | --- |
| 1930 | Seaman | (3-0-1) | | (6-0-2) | Chuck Logan |
| 1931 | Seaman | (3-0-0) | | (7-0-0) | Chuck Logan |
| 1932 | Highland Park | (3-0-1) | | (6-0-2) | Robert McIsaac |
| | Seaman | (3-0-1) | | (7-0-1) | Chuck Logan |
| 1933 | Alma | (5-0-0) | | (7-0-2) | George Wilson |
| 1934 | Alma | (3-0-2) | | (6-0-2) | George Wilson |
| 1935 | Alma | (4-0-1) | | (7-0-1) | Wesley Grout |
| 1936 | Highland Park | (6-0-0) | | (9-0-0) | D.L. "Heavy" Erwin |
| 1937 | Highland Park | (6-0-0) | | (7-0-0) | Paul Christensen |
| 1938 | Wamego | (6-0-0) | | (6-2-0) | Wesley Grout |
| 1939 | Highland Park | (5-0-0) | | (8-1-0) | Paul Christensen |
| 1940 | Seaman | (6-0-0) | | (9-0-0) | Dan Emrich |
| 1941 | Wamego | (5-0-1) | | (8-0-1) | Homer Hanson |
| 1942 | Seaman | (4-0-0) | | (6-2-0) | Dan Emrich |
| 1943 | Wamego | (4-0-0) | | (8-0-0) | Claude Reynolds |
| 1944 | Seaman | (5-0-0) | | (7-2-0) | Dan Emrich |
| 1945 | Seaman | (5-0-0) | | (9-0-0) | Dan Emrich |
| 1946 | Highland Park | (4-0-0) | | (9-0-0) | Barney Hayes |
| 1947 | Highland Park | (5-0-0) | | (9-0-0) | Barney Hayes |
| 1948 | HAYDEN | (5-0-0) | | (8-1-0) | John Starbuck |
| 1949 | HAYDEN | (5-0-0) | | (7-1-1) | John Starbuck |
| 1950 | HAYDEN | (5-0-0) | | (9-0-0) | Al Lee |
| 1951 | HAYDEN | (4-0-0) | | (8-2-0) | Al Lee |
| 1952 | HAYDEN | (5-0-0) | | (5-3-0) | Al Lee |
| 1953 | Haskell | (6-0-0) | | (9-0-0) | Tony Coffin |
| 1954 | HAYDEN | (5-1-0) | | (6-3-1) | Barney Byard |
| | Holton | (5-1-0) | | (6-3-0) | Bill Frear |
| 1955 | Haskell | (4-0-1) | | (6-1-1) | Tony Coffin |
| | Seaman | (4-0-1) | | (7-1-1) | Carl Bierman |
| 1956 | Seaman | (4-0-1) | | (7-1-1) | Carl Bierman |
| 1957 | Holton | (3-1-1) | | (7-1-1) | Ross Correll |
| | Seaman | (3-1-1) | | (6-1-1) | Carl Bierman |
| 1958 | Seaman | (5-0-0) | | (7-2-0) | Carl Bierman |
| 1959 | Haskell | (4-0-1) | | (7-1-1) | Eustace Lewellen |
| 1960 | Seaman | (3-1-1) | | (7-1-1) | Carl Bierman |
| 1961 | Washburn Rural | (5-0-0) | | (9-0-0) | Bob Peel |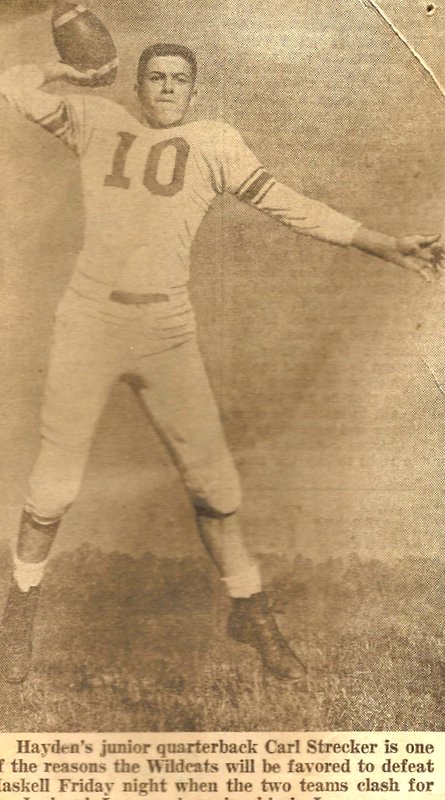 Carl Strecker - 1954 Quarterback for Hayden High




LEAGUE


ALL GAMES


















1930


W
L
T


W
L
T


















Seaman


3
0
1


5
0
2
St. Mary's Academy *


3
1
0








Wamego


1
1
2


4

1

4

Highland Park


0
2
1








Eskridge


0
3
0


























* CLOSED >1931


































1931


































Seaman


3
0
0


7
0
0
Wamego


2
1
0








Highland Park


1
2
0








Eskridge


0
4
0












































1932


































Highland Park


3
0
1


6
0
2
Seaman


3
0
1








Eskridge


2
2
0


5

4

0

Wamego


1
3
0








TCHS (Hayden) *


0
4
0


1
6
0


















* INDEPENDENT


































1933


































Alma


5
0
0


7
0
2
Eskridge


3
1
1








Seaman


3
1
1








Highland Park


2
3
0








TCHS (Hayden)


0
4
1


1
4
1
Wamego


0
4
1


























1934


































Alma


3
0
2


6
0
2
Seaman


3
1
1








TCHS (Hayden)


2
2
1








Wamego


2
2
1








Eskridge


0
1
4








Highland Park


0
4
1
























1935


































Alma


4
0
1


7
0
1
Eskridge


2
1
1








Highland Park


3
2
0








TCHS (Hayden)


2
2
1


5
3
1
Seaman


2
3
0








Wamego


0
5
0


























1936


































Highland Park


6
0
0


9
0
0
Alma


4
1
1








Seaman


3
3
0








Wamego


3
3
0








Osage City


3
2
1








Eskridge


0
5
1








TCHS (Hayden)


0
5
1


1
6
1


















1937


































Highland Park


6
0
0


7
0
0
Seaman


5
1
0








Wamego


4
2
0


6
2
0
Alma


2
4
0








Eskridge


2
4
0








Osage City


2
4
0








TCHS (Hayden)


0
6
0


1
8
0


















1938


































Wamego


6
0
0


9
0
0
Highland Park


4
2
0








Seaman


3
1
1








Eskridge


2
3
1








Alma


1
4
1








Osage City


1
5
0








TCHS (Hayden)


1
5
0


4
5
0


















1939


































Highland Park


5
0
0


8
1
0
Seaman


3
1
1








Osage City


3
2
0








Eskridge


1
2
1








Alma


1
3
0








Wamego


0
5
0








CCHS (Hayden) *


-
-
-


0
2
0


















* TCHS cancelled season


































1940


































Seaman


6
0
0


9
0
0
Wamego


4
1
1








Eskridge


4
2
0








Highland Park


3
3
0


4
6
0
Osage City


2
3
1








CCHS (Hayden)


1
5
0


1
8
0
Alma


0
6
0












































1941


































Wamego


5
0
1


8
0
1
Seaman


4
1
1








Highland Park


4
2
0


5
4
0
Osage City


4
2
0








Alma


2
4
0








CCHS (Hayden)


0
5
1


2
5
1
Eskridge


0
5
1






























































1942


































Seaman


4
0
0


6
2
0
Osage City


3
1
0








Highland Park


2
2
0


5
5
0
Wamego


1
3
0








CCHS (Hayden)


0
4
0


2
6
0






















































1943


































Wamego


4
0
0


8
0
0
Seaman


3
1
0








Osage City


2
2
0








Highland Park


1
3
0








CCHS (Hayden)


0
4
0


2
8
0


















1944


































Seaman


5
0
0


7
2
0
Highland Park


4
1
0


4
5
0
Wamego


4
1
0








Council Grove


2
3
0








CCHS (Hayden)


1
4
0


2
7
0
Osage City


0
5
0


























1945


































Seaman


5
0
0


9
0
0
Wamego


4
1
0








Highland Park


3
2
0


6
3
0
Council Grove


1
4
0








CCHS (Hayden)


1
4
0


2
7
0
Osage City


1
4
0


























1946


































Highland Park


4
0
0








Seaman


2
3
0








Wamego


2
2
0








CCHS (Hayden)


0
3
1


0
7
1
Osage City


0
3
1






























































1947


































Highland Park


5
0
0


9
0
0
Washburn Rural


4
1
0








Osage City


2
3
0








Seaman


2
3
0








Wamego


2
3
0








HAYDEN


0
5
0


0
9
0


















1948


































HAYDEN


5
0
0


8
1
0
Washburn Rural


4
1
0








Seaman


2
3
0








Wamego


2
3
0








Osage City


1
4
0








Highland Park


1
4
0












































1949


































HAYDEN


5
0
0


7
1
1
Wamego


4
1
0


7
2
0
Osage City


3
2
0


5
3
0
Highland Park


1
3
1


2
5
1
Seaman


1
3
1


2
6
1
Washburn Rural


0
5
0


























1950


































HAYDEN


5
0
0


9
0
0
Highland Park *


4
1
0


6
3
0
Wamego


3
2
0








Seaman


2
3
0








Washburn Rural


1
4
0








Osage City


0
5
0


























* INDEPENDENT in 1951


































1951


































HAYDEN


4
0
0


8
2
0
Washburn Rural


2
1
1








Seaman


1
1
2








Osage City


1
2
1








Wamego


0
4
0


























1952


































HAYDEN


5
0
0


5
3
0
Osage City


4
1
0








Seaman


3
3
0








Holton


1
3
1








Wamego


1
3
1








Washburn Rural


0
5
0








Haskell


-
-
-


























1953


































Haskell


6
0
0








Osage City


4
2
0








Wamego


4
2
0








Holton


3
3
0








Seaman


3
3
0








HAYDEN


1
5
0


1
8
0
Washburn Rural


0
6
0












































1954


































HAYDEN


5
1
0


6
3
1
Holton


5
1
0


6
3
0
Haskell


4
2
0


5
4
0
Wamego


4
2
0


6
3
0
Osage City


2
4
0


4
4
0
Seaman


1
5
0


2
7
0
Washburn Rural


0
6
0


2
7
0


















1955


































Haskell


4
0
1


6
1
1
Seaman


4
0
1


7
1
1
Holton


3
2
0








Wamego


2
3
0








Osage City


1
4
0








Washburn Rural


0
5
0


























1956


































Seaman


4
0
1


7
1
1
Holton


4
1
0


6
3
0
Haskell


3
1
1








Wamego


2
3
0








Washburn Rural


1
4
0








Osage City


0
5
0


























1957


































Holton


3
1
1


7
1
1
Seaman


3
1
1


5
2
1
Haskell


3
2
0


4
5
0
Wamego


3
2
0


3
6
0
Washburn Rural


2
3
0


4
5
0
Osage City


0
5
0


0
9
0


















1958


































Seaman


5
0
0


7
2
0
Washburn Rural


4
1
0


6
3
0
Holton


2
3
0


5
4
0
Wamego


2
3
0


4
5
0
Haskell


2
3
0


4
4
1
Osage City


0
5
0


2
7
0


















1959


































Haskell


4
0
1


7
1
1
Seaman


4
1
0


7
2
0
Washburn Rural


3
2
0


5
3
1
Holton


2
2
1


3
5
1
Osage City


1
4
0


2
7
0
Wamego


0
5
0


0
9
0


















1960


































Seaman


3
1
1


7
1
1
Haskell


3
2
0


5
4
0
Holton


3
2
0


7
2
0
Washburn Rural


3
2
0


7
2
0
Wamego


2
2
1


5
2
2
Osage City


0
5
0


1
8
0


















1961


































Washburn Rural *


5
0
0


9
0
0
Seaman *


4
1
0


7
1
1
Holton **


3
2
0


6
3
0
Haskell *


2
3
0


4
4
1
Osage City ***


1
4
0


2
7
0
Wamego **


0
5
0


1
8
0


















* Joined CENTENNIAL
















** Joined BIG 7
















*** INDEPENDENT




















Champions


LEAGUE ALL-TIME




























W
L
T






















1933-1941
Alma Flying Dutchmen
3


22
22
5




1944-1945
Council Grove Braves
0


3
7
0




1930-1941
Eskridge
0


16
33
10




1932-1954
HAYDEN Wildcats
6

(1 shared)


38
68
6




1953-1961
Haskell Indians
3

(1 shared)


31
13
3




1930-1950
Highland Park Scotsmen
6

(1 shared)


62
36
4




1952-1961
Holton Wildcats
1

(1 shared)


29
20
3




1936-1961
Osage City Indians
0


41
18
4




1930
St. Mary's Academy Squires
0


3
1
0




1930-1961
Seaman Vikings
12 (3 shared)


103
27
14




1930-1961
Wamego Red Raiders
3


74
77
8




1947-1961
Washburn Rural Jr. Blues
1


29
46
1




TDC All-State Players
1950 Ted Bechtel Center HAYDEN