East Central Football League: 1930 - ???? Return to Area FB League HOME Update: June 17, 2006
This league was formed by the teams left over from the demise of the Shawnee County League. 1929 members of the SCL that formed the new EAST CENTRAL LEAGUE were WASHBURN RURAL, SILVER LAKE, ROSSVILLE and BERRYTON. AUBURN, LECOMPTON and CARBONDALE joined as charter members to fill out the league. CARBONDALE dropped out in 1932 . AUBURN was in and out of the group a couple of times during the period 1933-1940. DOVER was part of the league from 1936 - 1939. MAPLE HILL competed from 1936-1940.
The EAST CENTRAL League dissolved in regard to football in 1941. Many of the teams reformed in the JDS League or continued play as Independents. The ECL continued as a basketball league and for one year only in 1943 ROSSVILLE, SILVER LAKE and WASHBURN RURAL competed in football under the name EAST CENTRAL. After that year, the league resurfaced as a 6 MAN football league in 1947. It is possible that a title may have been in play for the 1944-1946 seasons for teams that did not join the S&W league. Current research has not been able to verify what went on for the ECL during those years.
Research is under way on the 6 Man and 8 Man versions of the ECL. The exact end of the league is in question - I have posted what I have been able to find. Any help in this area would be appreciated. The TOPEKA DAILY CAPITAL & TOPEKA STATE JOURNAL have very sketchy reports of the small 6 Man or 8 Man leagues of the 1950s and 60s. Some of the small town newspapers can provide the information, but it is time consuming to dig the wins and losses out. I will return to this league at a later date.
Old Dover High School -------->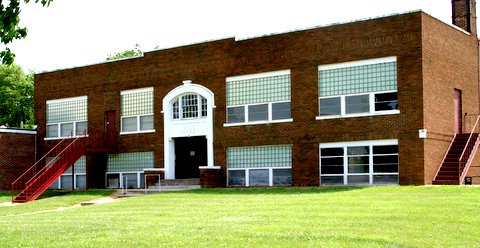 | | | | | |
| --- | --- | --- | --- | --- |
| 1930 | Rossville | (6-0-0) | (8-0-0) | Charles Kimerer |
| 1931 | Rossville | (6-0-0) | (9-0-0) | Charles Kimerer |
| 1932 | Washburn Rural | (4-0-1) | (4-3-1) | Morris Bigge |
| 1933 | Rossville | (4-0-0) | (8-1-1) | Charles Kimerer |
| 1934 | Washburn Rural | (3-1-0) | (4-3-1) | Morris Bigge |
| 1935 | Rossville | (3-0-1) | (6-1-1) | Charles Kimerer |
| 1936 | Rossville | (4-0-1) | (6-0-1) | Charles Kimerer |
| 1937 | Rossville | (6-0-0) | (9-0-0) | Charles Kimerer |
| 1938 | Rossville | (5-0-1) | (7-1-1) | Charles Kimerer |
| 1939 | Silver Lake | (6-0-0) | (10-0-0) | Ted Kolzow |
| 1940 | Silver Lake | (5-0-0) | (10-0-0) | Ted Kolzow |
| 1941 | No Football | | | |
| 1942 | No Football | | | |
| 1943 | Silver Lake | (2-0-0) | | Ted Kolzow |
| 1944 | No Football ?? | | | |
| 1945 | No Football ?? | | | |
| 1946 | No Football ?? | | | |
| | | | | |
| | 6-MAN | | | |
| | | | | |
| 1947 | Dover | | (9-0-0) | |
| 1948 | Dover | | | |
| | Auburn | | | |
| 1949 | Maple Hill ?? | | | |
| 1950 | Auburn | | | Donald Stern |
| | Harveyville | | | Ray Brown |
| 1951 | Berryton | (4-1-0) | | F. W. Simpson |
| | Lecompton | (4-1-0) | | |
| 1952 | Lecompton | (5-0-0) | | |
| 1953 | Berryton | (5-0-0) | (6-1-0) | |
| 1954 | Lecompton | (5-0-0) | (8-0-0) | |
| 1955 | Auburn | (5-0-0) | | |
| 1956 | Harveyville | (5-0-0) | (8-0-0) | |
| 1957 | Berryton | | (9-0-0) | Jerry Reichart |
| 1958 | | | | |
| | | | | |
| | 8-MAN | | | |
| | | | | |
| 1959 | | | | |
| 1960 | Harveyville | (4-0-1) | (7-0-1) | Jerry Milner |
| 1961 | Lecompton | | (7-1-0) | Bill Nelson |
| 1962 | Pomona | (6-0-0) | (6-2-0) | Carlin Nalley |
| 1963 | Harveyville | (5-0-0) | (9-0-0) | Jim Baldridge |
| 1964 | Dover | (5-0-0) | (8-0-0) | Gary Johnson |
| 1965 | | | | |
| | | | | |
| | | | | |
| | | | | |
| | | | | |
| | | | | |
| | | | | |
| | | | | |